Around the world with Poul.
My travel description from
Herning Folkeblad (local newspaper), Friday January 24th, 1997.
Most people have, at some point, dreamed about going out into the great world to experience other cultures and discover the things that make people different. This dream became real to me on 31st of January, 1996. I sat down in my seat on a plane, destined for a 10 month long trip around the world. Prior to this, I had spent more than a year planning and working hard to save up money for the trip. Marco Polo Tour's helped me with all the practical stuff like plane tickets and travel insurance and I can only recommend the agency as they really helped me out. There are a 1000 small things to take care of before taking off on such a trip. After endless waiting, the day finally came and I said goodbye to my family, friends and secure life in Denmark.
China awaits!
The first stop on the trip was Beijing, capital of China with a population of 10 million people, all totally alike and speaking a language, I didn't comprehend at all. It was a pretty rough start but also an enormous challenge and I quickly learned what it was like to be all alone, far from home. It was my own choice to travel alone and I have never regretted this decision, even though it was a bit lonesome sometimes. But it was never a problem to me. You meet with other travellers all the time and especially all the other Danes travelling, with whom you share and exchange experiences and adventures.
Great change.
It was a huge shock to arrive from safe Denmark to the Middle Kingdom where everything is completely different and I very soon found out that only very few Chinese speak English. This meant that most communication was sign language, using my arms a lot, something my indispensable guide book (Lonely Planet) couldn't help me with. There are incredibly many sights in Beijing and the area around the city: The Tiananmen Square, the Forbidden City and not least the Summer Palace. But the monument that truly impressed me, was the Great Wall which to me is the essence of China. I went out there on a freezing cold February morning, (-10°C). The sky was completely blue, the air was frosty and the sun shone down on this impressive monument which stretched as far as you could see. Just to stand on the wall took my breath away and I just thought to myself "I wish my friends could see me now" . But they were far away.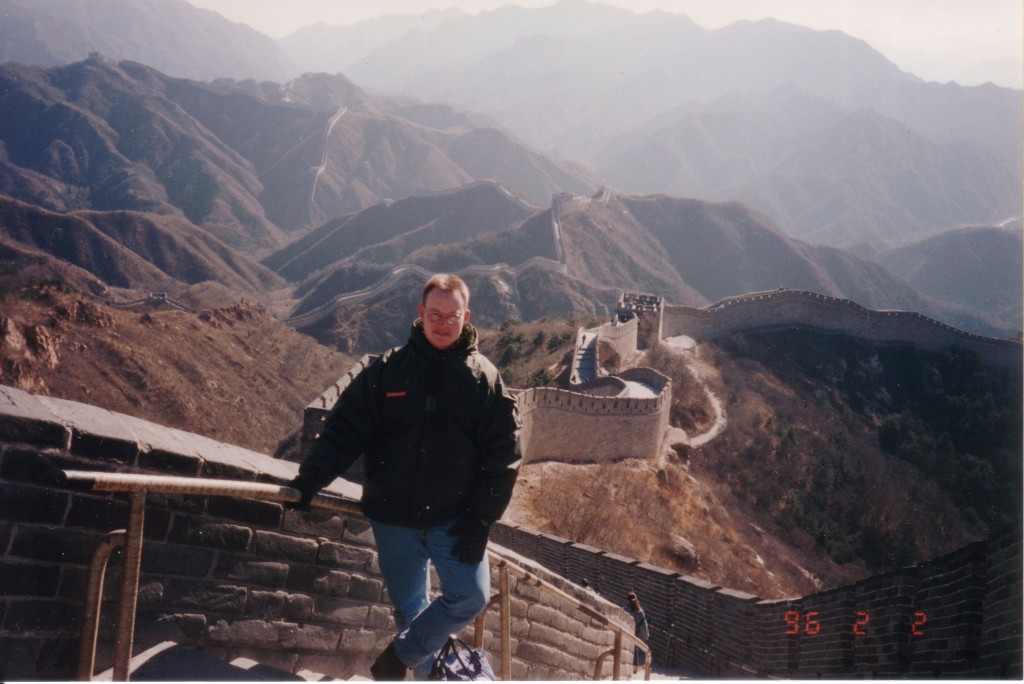 Me and a bit of the Great Wall.
Chinese New Year.
A few days later, I was on my way down the Yangzi River, the third longest river in the world. The trip lasted 48 hours and I ended up in Shanghai – I was the only tourist onboard. During my stay in Shanghai, the Chinese celebrated their New Year, that takes place a couple of months later than ours. New Year is a very special holiday to the Chinese, partly because it is the only time of year where they literally have time off. The entire family gathers to celebrate what corresponds to our Christmas. Officially, fireworks are forbidden as 350 people died in Shanghai in 1995 during the celebrations but prohibited or not – I spent the evening with 2 Danish guys from Varde on the 4th floor, looking out at the city and the 15 million inhabitants didn't hold the fire. Fireworks were everywhere.
Mail from Mum.
In Shanghai, it was my first opportunity to collect mail from "Poste Restante", which is a way to send mail to people without permanent address. It is an arrangement that works very well all over the world, e.g. in the US it is called General Delivery. I had made out a list with the dates, when I would be where so every twentieth day there was a greeting and some liquorice from Denmark (liquorice is really a short-supply goods outside Denmark). I left the noisy big city with traffic chaos and went to a small village, Yangshou in the southern Guangxi province. There I could sit peacefully at the sidewalk café and enjoy a cup of jasmine tea and follow the daily routines of the Chinese. You could also rent a bike (DKK 4.00 per day), go on board a ship and sail up Li River, which winds through the beautiful lime-stone mountains, famous for this area. The sailing ended in Xing Ping and then there was 25 km back to town, a beautiful bike ride through vast areas of rice fields.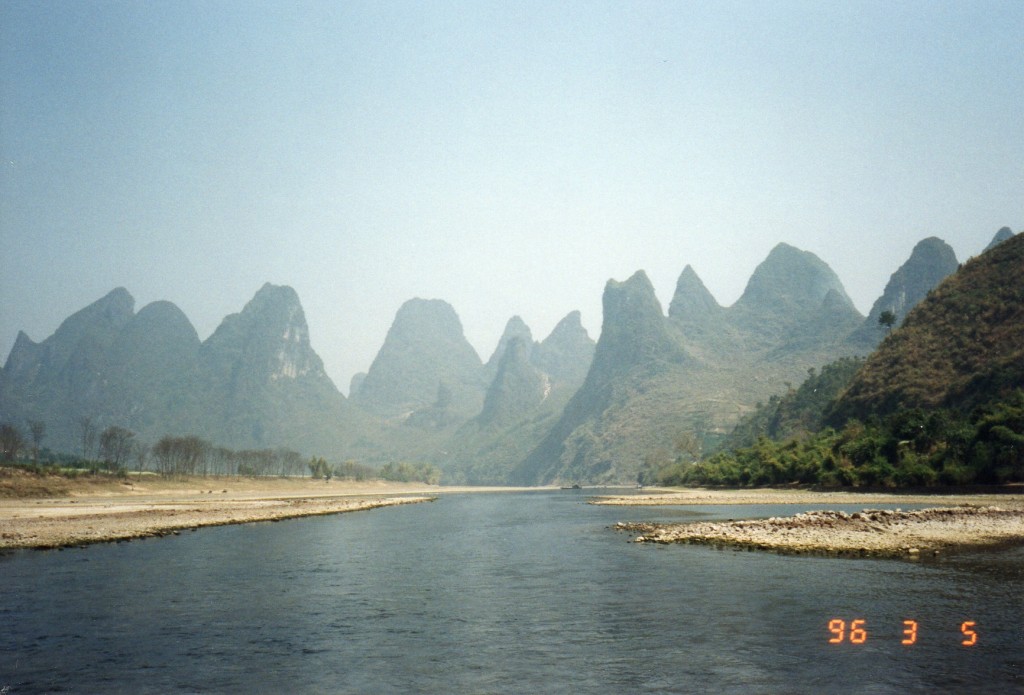 The trip down Li River
Dog on the menu.
Talking of rice and food, I have to emphasize the Chinese kitchen which is quite fantastic. Of course I had to taste some of the more special dishes so one night I tried dog, which was quite "good" but I liked the snake meat better. It tasted a bit like fried eel. After 6 exciting weeks in China I went on to Hong Kong which at the time was soon to be taken over by its big northern neighbour. You can say a lot about Hong Kong, but one thing is certain; there are incredibly many people and only time can tell what the future will bring for them. I stayed in an area called Koloon which was very hectic. The shops were open 24 hours a day and everything was very western inspired. I visited the Danish Seamen's Church where I had a good time with the curate and his wife who invited me in for homemade Danish layered cake and coffee – just what I needed after a long time of foreign cooking only.
Off to the sun.
After freezing cold weather in China and Hong Kong, now it was time for relaxing and suntanning. I travelled to Thailand with my sun block. The day temperature was approx. 35°C in the shade and I ended up in a paradise with white sandy beaches and blue water on the island Ko Phi Phi Don. It was a pleasure to just throw yourself in the sand after a quite demanding trip through China. After a bit of relaxation, I went on to Indonesia where new adventures were to come. One of the biggest was when I climbed Mount Merapi, one of the most active volcanoes on Java.November 1994 was the last time, it had been active and at that time it levelled out several villages completely. It was a strange sensation to set foot on this ticking bomb. After this I went for a short stop to Bali where I rented a motorbike for only DKK 25.00 per day. This bike took me around in the incredibly rich landscape characterized by rice fields and palm trees.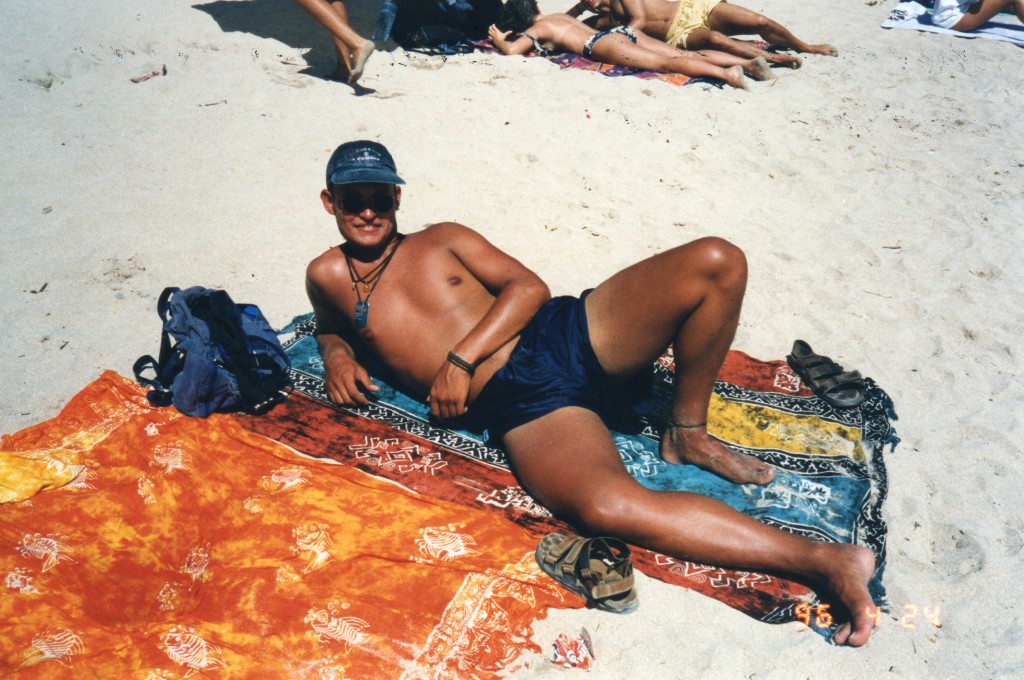 Hmm you get a good tan! Kuta Beach, Bali.
Down under.
Now my journey was taking me down under in more senses that one. First, I went through a 4-day long PADI diving course, where I was certified for "open water" – this meant that I could dive to 18 meters depth. This was an entirely new and exciting world to swim weightless among coral fish, turtles and sharks who fortunately were more scared of us than we were of them. After 3 months in Asia, I was now "down under" for real – in Australia. 17 million people live in this huge country of which 230,000 are aboriginals, the native people of Australia, who came to the country 50,000 years ago. The famous rock, Ayers Rock (Uluru in aboriginal language) is located in the middle of the continent. The rock is not only tremendously big but also a fantastic, beautiful sight. It changes colour at sunrise and sunset. Even though it seems a bit commercial, it is positively a great experience and absolutely worth the 6-hour bus ride from Alice Springs. My visit to Australia also took me on a survival trip, where we were constantly followed by the faithful dingos, to Sydney with the famous Opera House by Utzon and not least did I witness the first preparations for the Olympic Games in Sydney in year 2000. As to nature, New Zealand gave me the greatest nature experience because the country has it all; boiling mud, snowy mountains, rain forests, volcanoes, glaciers and lots of other astonishingly beautiful things that made little Denmark look quite boring in comparison. To travel around New Zealand, you can choose to hitch hike. I had never tried this before but there has to be a first time for everything. The Kiwis, as the inhabitants of New Zealand are called, are very hospitable and helpful so it was no problem getting around. Before I left Denmark, I had arranged to meet with my mate, Jens, in Cathedral Square, Christchurch on 01st of August 1996 at 12.00. We had not seen each other for 9 months when we met, as planned, on the other side of the earth. So that was terrific. We rented a car for the following 3 weeks and travelled through the countryside together. We soon agreed that New Zealand is the most beautiful spot in the world.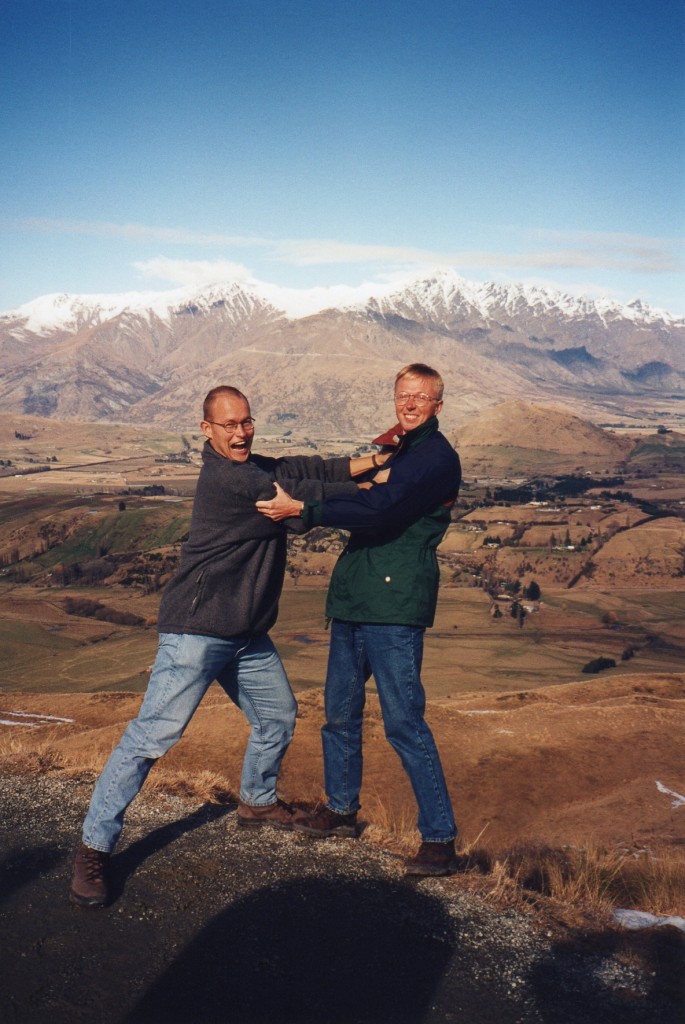 Jens and I with The Remarkables in the back.
The jump.
I suppose "the Pipeline" does not ring a bell to that many Danes but it is one of the biggest bungy jump bridges in the world with its 102 meters. We simply had to try it, and words cannot describe the feeling you get inside when you jump off and hurl to the ground with 120 km/h. Most people think it is absolutely crazy to do a thing like that but to me it was one of the most outstanding single events of my entire trip. And as they say in Queenstown "If you are not living on the edge, you are taking up too much room". I agree and can only encourage others to try the jump. If I should mention one single thing missing in New Zealand, it would be beaches, but I made up for that by going to Fiji where I stayed on a small island called Tavewa, a backpacker spot. No cars, no roads, no shops and no McDonalds at all – nothing. This was the perfect place to relax and enjoy life. I have to admit that I couldn't help thinking of the poor fellow's back home who had to get up early to go to work.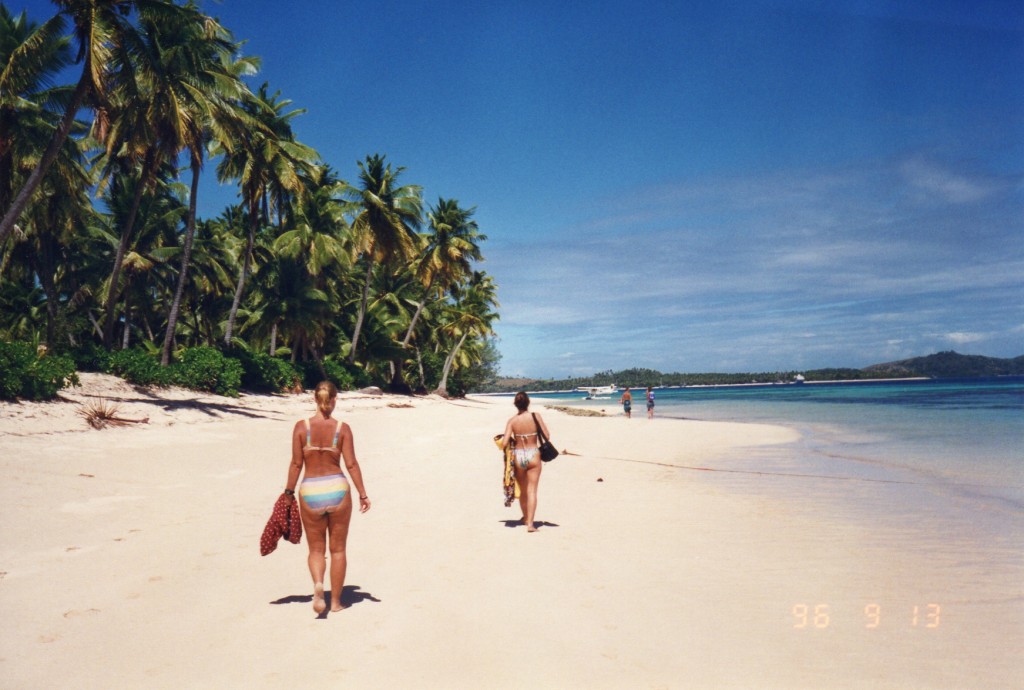 Tavewa beach….looks pretty nice, huh?
From peace and quiet to a total hectic.
Over night this blessed peace was changed into a flurry of hectic and big city craziness as I arrived to San Francisco, a genuine big city that simply has everything. I continued through the vast country with Greyhound, a huge American bus company, and travelled 15,000 km with incredibly many sights. One of the funny events was a visit, together with 2 Danish couples I had met in Fiji, to a talk show with Tom Hanks as guests. It was kind of weird to sit so close to one of the greatest actors of the nineties.
Peace again.
After all the big city rush, it was time for some peace again. Inner peace, that is and I found that in Arizona, where I went to see Grand Canyon, of course, and I experienced the best view ever. The weather was perfect and it was amazing to be there. I sat down on the edge and enjoyed the view for several hours. After this grand experience, I went to Dallas to see the spot where John F. Kennedy was shot, and later I visited his grave at Arlington Cemetery in Washington D.C. There I also saw the traditional sights such as the White House, FBI, Pentagon, U.S. Capitol, plus several museums and galleries. I was very lucky to be in Washington the very night, Bill Clinton was elected President, because this was also a huge experience.
Space – take off.
I was also in luck as I observed the launch of Columbia from Kennedy Space Center. A few weeks earlier, I had seen the astronauts practise in a test basin at Johnson Space Center, Houston, Texas. The Columbia launch into space was also my signal to return to Denmark. After 300 days on the move, it was time to turn the last page of my dear diary, with which I had shared all these fantastic adventures. "Sob, this is my last night in New York and also of my travelling around the world. It is unbelievable how quickly time flies and now it was time to face that it would be over tomorrow, but this trip has without doubt been the time of my life." This is the last sentences in my diary. Then it was time to go home to my family and friends who welcomed me at Herning railway station. The readjustment from one of the largest cities, New York to daily life in Herning took a couple of days, but it soon became everyday life again.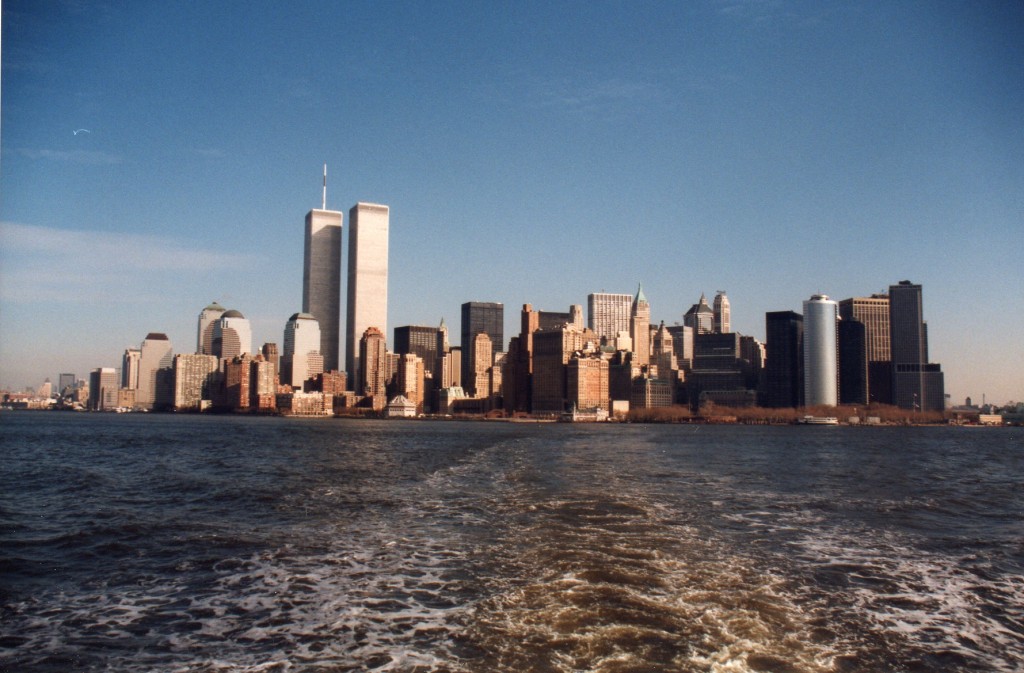 New York City, the greatest city in the world
After a long travel, Poul Lauridsen, has learned a lot about himself and he also learned to appreciate all the things you tend to take for granted in Denmark. He wished that everybody had the opportunity to go on a similar trip; pack your backpack and off you go. To Poul, this is definitely not his last trip, the future may include expeditions to Africa or South America because, as he expresses it; "Travelling is living".
THE END
Poul Lauridsen © 1998